The England international football team is experiencing some bad times. Some comment that the team is in a period of transition, but transition requires change, belief and a resolute spirit – a spirit that understands that, for now, the future is more important than the present. I feel this is lost on Fabio Capello, but equally this point is a hard one to face up to and follow through on, as it requires a manager to forgo personal glory in favour of responsibility towards the future of a nation's international football.
But international football is an odd beast, very different from that of club football. Managers get around two weeks of training with their players every couple of months. While every player is a professional, it means forging a strong team spirit and understanding between players becomes harder. Essentially, this means that only picking the 'best' players based on club form is not the best way to pick an international team.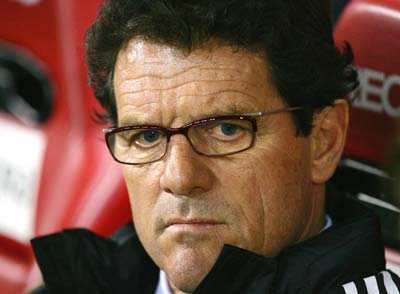 Sure, you need people with individual skill so that one-on-one battles are not consistently lost; however, having players who are adaptable and positive when asked to play unfamiliar tactics with unfamiliar people against the best players in the world is essential. You can't have players who are too set in their club's style (unless is matches well), who don't believe in what you're doing or won't be a positive influence on team morale.
This means making hard choices and going against common wisdom. It's hard to exclude a player who is mercurial for their club but doesn't have the essential attributes to be successful in an international squad. There's always the doubt that they may start to 'get it' and become great for his country; however, there are only a small number of international games each year and a manager cannot afford to spend his time waiting for a player to integrate with the team.
So who should be the starting eleven for England and who are some bright young stars that need to get more international experience? Under a forward thinking manager, I believe our main squad would look something like this:
Joe Hart
Micah Richards - Joleon Lescott - Phil Jagielka - Leighton Baines
Jack Rodwell - Jack WIlshere
Adam Johnson --------------------------------------- Ashely Young
Wayne Rooney
Darren Bent
Rotating some of the U21 talent and testing out some proper defensive midfielders (Huddlestone and Cattermole need to be given a chance) and we could have a strong and experienced team to challenge for the World Cup 2014 in Brazil. OF course, ability to adapt to life as an international footballer is the most key attribute and selection of another individual over these would be preferred on this basis.